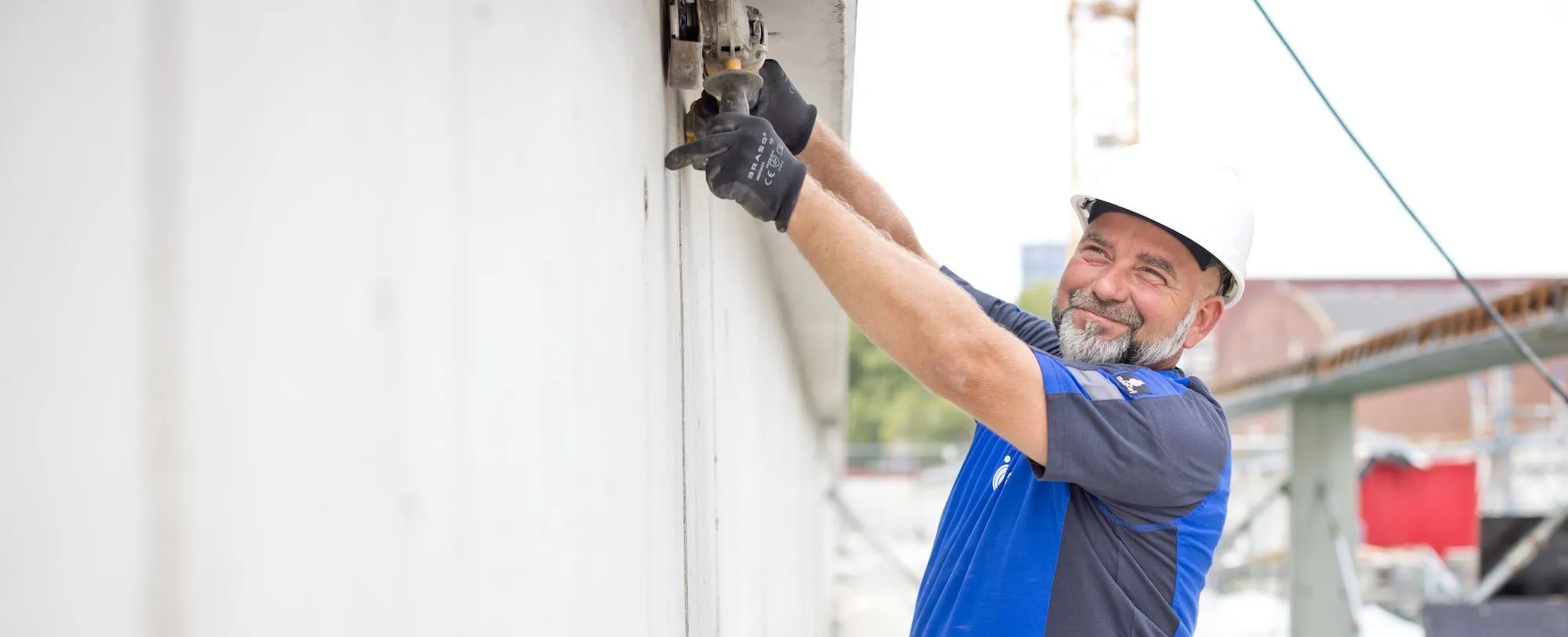 Concrete repairer
Although concrete seems very solid and near indestructible, in practice it is damaged regularly. Traffic accidents and harsh weather conditions inflict damage on bridges, tunnels, viaducts, and buildings. Leakage, fire, or the need for restoration are reasons to repair concrete. Concrete is vulnerable when iron reinforcement frames start rusting or because of errors during production or construction. Your job as concrete repairer is to ensure safety by reinforcing concrete and enhancing its quality.
What we offer
Next to appreciation and personal guidance
Hourly wage of €13 – €19 per hour
Fixed-term contract, with prospect of a permanent contract
Clients that appreciate your work
Possible to grow into the function of work planner
Capable in concrete constructions
All activities surrounding concrete reparations are your responsibility. First, you analyse the damages. Is the object in question a bridge or tunnel? Maybe the problem exists in a building. You administer anomalies and damages you find. Larger surfaces require spraying or injecting the concrete. You use different mortars and hand tools for smaller surfaces and cracks. After restoring the leak damage, you apply a water- or moist resistant coating on the concrete. Most times you finish your work with a protective, chemical layer. Your most important jobs are:
Analysing damages
Making a restoration plan
Pouring, injecting, or spraying concrete
Finishing with a coating (protective, water resistant etc)
Rocking repairs
Do you want to restore buildings to their former glory? Making them liveable and pleasing to see. No education is needed. Just a healthy dose of motivation to get your hands dirty. At your workplace you are trained in the craft of concrete reparation. Even without previous experience. And do you want to grow as a professional? When your work ethic is positive and clients are satisfied, you can become a work planner, for instance. AB Midden Nederland offers you this opportunity. Challenging construction and reparation projects. That thrills and enthuses you. You understand the risks of concrete damage to houses and infrastructure, so you work with a perfectionistic precision. Guarantee safety in our surroundings as a concrete repairer.