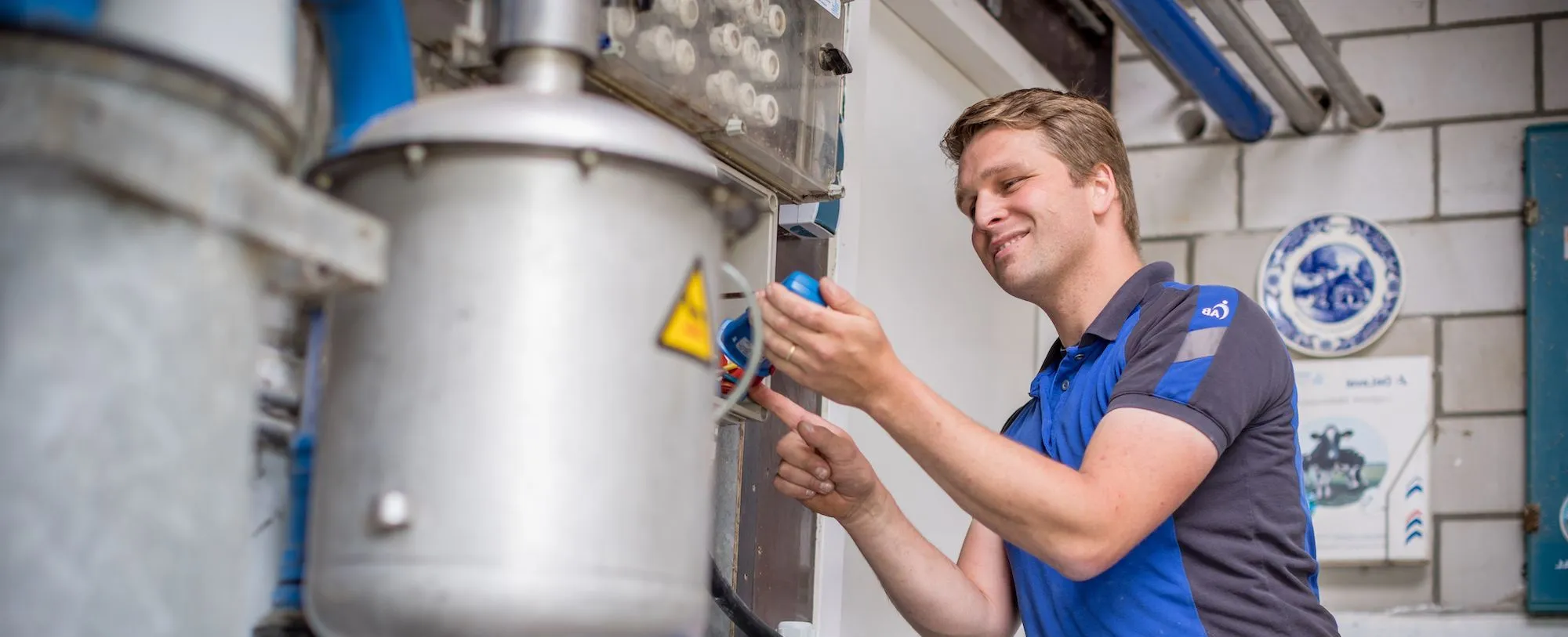 Mechanic
Packing fruit juices in a factory requires machines. One of these machines attaches the plastic twist cap to the pack of apple juice. But suddenly the machine falters when trying to make the turning movement. As a mechanic you are called in to track down the problem. And to solve it. How? With your technical insight, you will fix it in no time. You know every cog and spring and you love how machines work. That is why you make sure they remain productive!
What we offer
Next to appreciation and personal guidance
Hourly wage of €16 – €19 per hour
Fixed-term contract, with prospect of a permanent contract
Work as a mechanic in electro, with machines, with malfunctions, in assembly and more
Allowances for shift work, late hours, and on-call service
Make way for the mechanic
Does a company have machines that malfunction or show errors? They come to you. Your primary responsibility is to maintain technical installations. Machines for production, cars, and electrical appliances. This maintenance ensures everything runs like clockwork. If machines can be improved, you do this as a precaution measure. Any faults or malfunctions? You find them quickly. Your range of tasks is extensive, but mainly you are occupied with:
Checking for malfunctions
Creating a solution for the malfunction
Replace or repair broken parts
Machine maintenance
Converting machines for other tasks
Many options for mechanics
To work as a mechanic, a technical education is preferred. We also look at your experience and background. Your technical insight and love for technology are significant. Can you work independently, and do you enjoy solving puzzles and problems? Then we have a suitable client for you! Do you have extensive knowledge of machinery? Come work as an all-round mechanic. Do you prefer working on agricultural machines or transport equipment? Then you can work for a company with mobile vehicles, or an agricultural company. For some assignments, you can learn the practice from seasoned mechanics. AB Midden Nederland offers technical courses. Because we want to see you grow in your craft.
Becoming a mechanic
If you're looking for a dynamic and challenging career, consider becoming a mechanic. Mechanics play an essential role in various sectors, such as engineering, agricultural mechanization and industry. They ensure that machines and installations function properly and carry out maintenance and repair work. If you have the ambition to become a mechanic, AB Midden Nederland is the perfect employer to give your career a flying start. Discover in this article what it means to become a mechanic, alongside the advantages of working for AB Midden Nederland.
What does it mean to become a mechanic? Technicians are professionals who are responsible for installing, repairing and maintaining various technical systems and equipment. Whether electrical installations, mechanical systems or heating and cooling systems, mechanics have technical knowledge, problem-solving skills and the willingness to learn and adapt to new technologies.
The advantage of becoming a mechanic are:
A growing demand for mechanics: In a world that is becoming increasingly dependent on technology, there is a growing demand for well-trained mechanics. Companies need technical professionals who can take care of the maintenance and repair of their equipment.
Diverse career opportunities: Mechanics have the opportunity to work in a variety of sectors, such as automotive, construction, aviation, agricultural mechanization, and energy. This offers a lot of flexibility and opportunities to tailor your career to your interests and skills.
Manual labor and satisfaction: As a mechanic you often work with your hands and you see direct results of your efforts. Solving technical problems and repairing defective equipment can be immensely satisfying. In addition, electronics and PLC control play an increasingly important role in technology. Analyzing systems and reading out malfunctions with the help of a laptop will play an increasingly important role in your job as a mechanic.
Good salaries and benefits: Mechanics are valued for their specialist knowledge and skills, which translates into good salaries and benefits.
Becoming a mechanic at AB Midden Nederland
At AB Midden Nederland we understand the value of your talent and work. As an employer, we make use of your talent and help you grow. With a wide range of positions in various industries, there is sure to be a suitable option for you. Our background in the agricultural world has taught us to manage and work together with respect for every job and sector. At AB Midden Nederland you can count on good employment practices and fair opportunities at a down-to-earth and pleasant company.
As a mechanic at AB Midden Nederland you enjoy flexibility and variety. In addition, we offer the possibility to follow a BBL training, where you can directly apply the theoretical knowledge in practice. Are you interested? We would like to invite you to a no-obligation conversation while enjoying a cup of coffee to discuss the possibilities!
Becoming a mechanic with a BBL training 
If you are looking for a challenging job where you can combine working and learning, consider becoming a mechanic with a BBL (Vocational Training Pathway) training. Mechanics play an essential role in various sectors and with the right training you can grow quickly in your position. At AB Midden Nederland we understand the value of learning and offer support, guidance and numerous opportunities for your development.
Become a mechanic with BBL training: 
A BBL education allows you to learn while you work, allowing you to gain a lot of hands-on experience. As a mechanic in training, you work at AB Midden Nederland and at the same time you follow a training at a recognized training institute. This enables you to immediately apply the acquired knowledge in practice and to grow in your position.
Benefits of a BBL education:
Practice-based learning: With a BBL education, you work in practice and learn through experience. This allows you to gain relevant skills and immediately see how your work contributes to the company.
Earning salary while learning: As a mechanic in training, you receive a salary, which means you can work on your career and be financially independent at the same time.
Guidance and support: At AB Midden Nederland you will be guided and supported during your training program. We ensure that you have the right workplace where you can learn a lot and grow in your position.
At AB Midden Nederland we understand that your workplace is important and we want to help you achieve your ambitions. If you choose to become a mechanic with a BBL training, we will arrange a workplace for you where you can learn and grow in your position. In addition, we offer various forms of support, such as guidance with conversations, help with administrative matters and work clothing. We invest in your future by reimbursing part of your studies.
Admission requirements for BBL technician training 
You can follow a BBL course if you meet one of these requirements:
Diploma VMBO: basic vocational, framework vocational, mixed and theoretical learning path
Transition certificate HAVO or VWO from year 3 to 4
MAVO diploma
Diploma entrance training (level 1)
Do you not meet the admission requirements? Then discuss this with a potential training institute or ask AB Midden Nederland about the possibilities.
Job satisfaction and career opportunities: 
As a mechanic with a BBL education, you have an exciting and dynamic career ahead of you. You work on challenging projects, solve technical issues and contribute to the proper functioning of various systems and equipment. In addition, AB Midden Nederland offers opportunities for growth and specialization. We support you in developing your skills and offer opportunities to grow within our company.